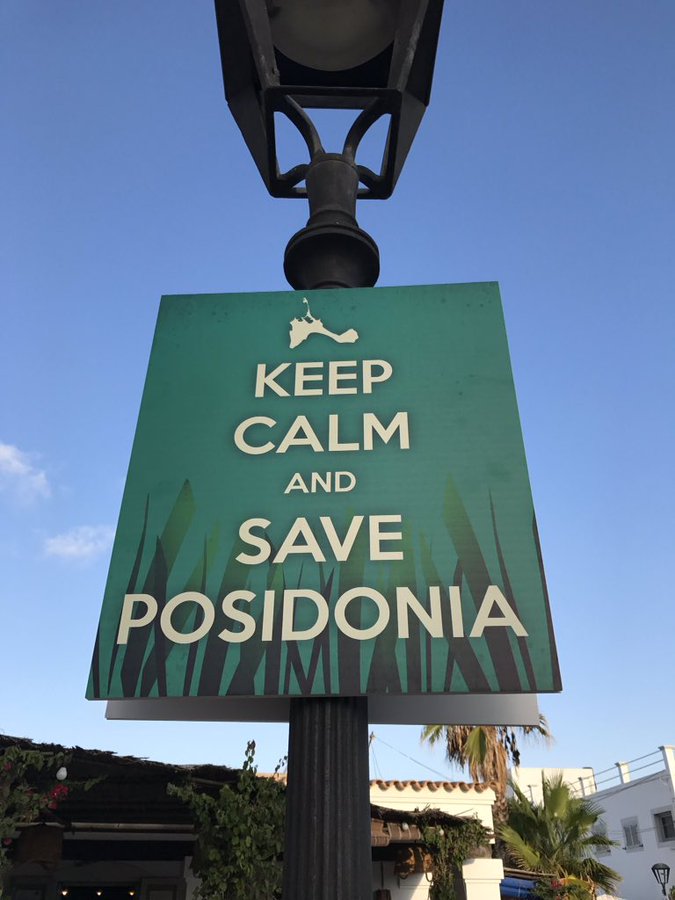 "It's like the flow of a river, everyone is drawn in … and swimming against the stream is not an option…", this is the enthusiastic summary proposed by Jorge Moreno and Marcial Bardolet of the Balearic Islands Government about their "new deal" for Posidonia.
Indeed over the last few years, the Balearics have been fully engaged in the protection of Posidonia. It all started with Decree 25/2018, published 3 years ago, that provides concrete and extensive regulations related to posidonia. This decree was enacted by the Balearic government to clarify the legislation in place and to quickly take measures to protect posidonia in an area of Spain that is severely affected by mass tourism and nautical tourism.
Take a look at the decree – Spanish – English translation
A great number of activities related to posidonia are detailed and regulated in Decree 25/2018, one of the most emblematic being that it is now forbidden and fineable to anchor in all areas covered by posidonia around the Balearic islands, which represent an impressive 650km2.
Extensive cartography
Several measures are put in place to ensure that this regulation is abided by. First of all a detailed mapping of the posidonia fields has been done and an app for captains and boaters has recently been released, to help them select the appropriate places to moor and make sure that both chains and anchors stay out of posidonia. The app can be downloaded here : https://atlasposidonia.com/en/app-posidonia-2/
A new website, atlasposidonia.com, accompanies this new app to share this extensive cartography as well as good navigation practices. It is interesting to note that the Balearic government has shared the cartography with Donia, https://donia.fr/, one of the first apps that offered sailors tools to help respect sensitive marine ecosystems. The government is also working with Navionics/Garmin and the official nautical chart editors to find ways to promote good practices related to posidonia.
Help and surveillance
Surveillance is of course key, and 15 boats chartered by the Regional Ministry of Environment for posidonia surveillance are out everyday from June to September to check if boats are anchored properly. Boats from Marine Protected Area rangers, eco-mooring fields (the Regional Ministry of the environment and Territory manages 8 anchoring fields with more than 250 low-impact buoys), beach surveillance or others are also joining in the effort for a total of 30 crafts at sea. Their main goal is to change habits; to inform, make sure that boats are not anchored on or too near posidonia and ask violators to move if relevant. They also deal with other matters such as removal of litter, turtle assistance and so on, which contribute to their acceptance. If environmental authorities are on board, the tone may be harsher as they can issue legal warnings or fines. But in any case the authorities prefer to convince rather than to compel… if possible.

In 2020, around 73,000 boats were checked and around 6,000 boats were asked to move from posidonia to sand. This number is decreasing year over year, proving that the measures in place are efficient.
A special VHF frequency, canal 68, is also setup to offer anchoring assistance to ships from 15 to 110 meters. Over 6,000 boats benefited from this service in 2020.
Communications
Numerous communications campaigns, projects and direct contacts with the public are also contributing to the growing awareness of the need to protect posidonia. Just to name a few: An "adopt a square meter of posidonia" campaign in Formentera called Save Posidonia Project, a popular beer or perfume brand embarking on the theme, a posidonia festival, brochures, posters, city signs, display window signage, presentations for yacht shows, charter agents ..

Management of remains
The decree also includes specific text (article 6 and appendix 2) dedicated to the management of posidonia remains (banquettes) on beaches. Since posidonia is a legally protected species, its remains are also protected; but it was necessary to clarify how best to deal with the question. The Balearic Government is involved with the Interreg Med POSBEMED 2 project to work on this topic.
Financing
Last but not least, the decree also set up a Posidonia fund and a Posidonia committee that identifies which project should be supported by the fund. The Posidonia fund collects compensations paid by projects that can be detrimental to posidonia such as harbor developments or installation of pipes… Agencies responsible for these public works can choose whether to replant posidonia or to give to the fund. Most choose to give to the fund. The fund has so far collected 400,000 euros for projects dedicated to posidonia activities. The Posidonia committee decides where the funds are spent. This committee gathers all stakeholders and is presided by the regional minister of environment. The fund will for example finance the monitoring of posidonia around the islands for the next 3 years.
---
This unprecedented work that has been achieved for posidonia preservation is the result of a strong political will but also the cooperation of a large number of stakeholders and a coordination among governmental bodies such as the Ministry of the environment and Territory, the General directorate of natural spaces and biodiversity, IBANAT, the Environmental authority, the DG fisheries and marine reserves, ship agents and charter companies, maritime service of the civil guard, harbors and port authority, 112 and emergencies hotlines, national administration, other managers…
The success of this decree and the measures taken to apply it is such that other provinces around Spain, such as Valencia and Catalonia are looking to adopt similar ones and are exchanging with the Balearics to build on their experience.

To get the full story, take a look at the complete presentation
https://drive.google.com/file/d/1Wx3FcCj-lIOjWrMbkkvXRVm4ErFSkCLM/view
---
And finally, to look even further, the government of the Balearic islands is an active member of the newly formed Mediterranean Posidonia Network that, under the coordination of the French Biodiversity Office, gathers about 15 countries and several organisations (including MedPAN) with the goal to increase each country's capacity to better protect posidonia and prevent its future degradation. It gathers interesting data on posidonia, boats and country regulations. https://medposidonianetwork.com/